Event Details
When: Wednesday, October 4, 8:00AM - 7:00PM
Where: Monona Terrace, Madison
Join us on October 4 for PMI Madison's flagship in-person event, Professional Development Day, an event you won't want to miss! This is your chance to expand your knowledge, connect with peers, and gain insights from industry experts all while earning PDUs.
Conference Theme and Session Tracks 
 The theme of PDD 2023 is "Building Trust and Navigating Risk: Mastering Negotiation for Effective Leadership." You have the opportunity to sharpen your stakeholder management skills and earn up to 6.5 PDUs  through attending valuable breakout sessions grouped into three distinct tracks:
Business Acumen: Enhance your strategic thinking and business insights. Sharpen your decision-making skills and learn how to align projects with overarching organizational goals.
Power Skills: Develop your leadership, communication, and interpersonal skills. Gain insights into effective team management, conflict resolution, and negotiation techniques.
Ways of Working: Explore the latest methodologies and approaches to project management. Dive into agile, lean, and other innovative frameworks that can elevate your project delivery.
Keynote Speaker - Martin Richards

We are thrilled to announce our keynote speaker, Martin Richards. Martin is a seasoned professional, specializing in crisis management for public sector organizations. With a wealth of experience in crisis preparation, training, exercises, and live crisis management, including hostage situations, he has successfully guided numerous organizations through turbulent times, emerging stronger than ever.
In his captivating keynote speech, Martin will draw striking parallels between the world of crisis management and the corporate landscape. As an expert in managing high stakes situations, he knows that the ability to communicate effectively, resolve conflicts, and make strategic decisions are crucial not only during emergencies but also in the day-to-day operations of any business.
About Martin
Martin spent 30 years in the UK Metropolitan Police, reaching the rank of Chief Superintendent.  He had command responsibility over a series of high-profile major incidents.  He was head of the leadership academy, and worked on secondment to the Home Office, National Police Powers and Policy Unit and concluded his service as UK Director of strategic police command firearms training. 
‍
Earlier in his career, he was a leader within the firearms department, surveillance teams and public order units.  He was, for 14 years, an international hostage and crisis negotiator coordinator for the Metropolitan Police and was deployed to negotiate the release of UK citizens throughout the globe including, Afghanistan, Africa, Iraq, and Israel. 
Full Conference Schedule
View full course catalog with in depth course session descriptions here.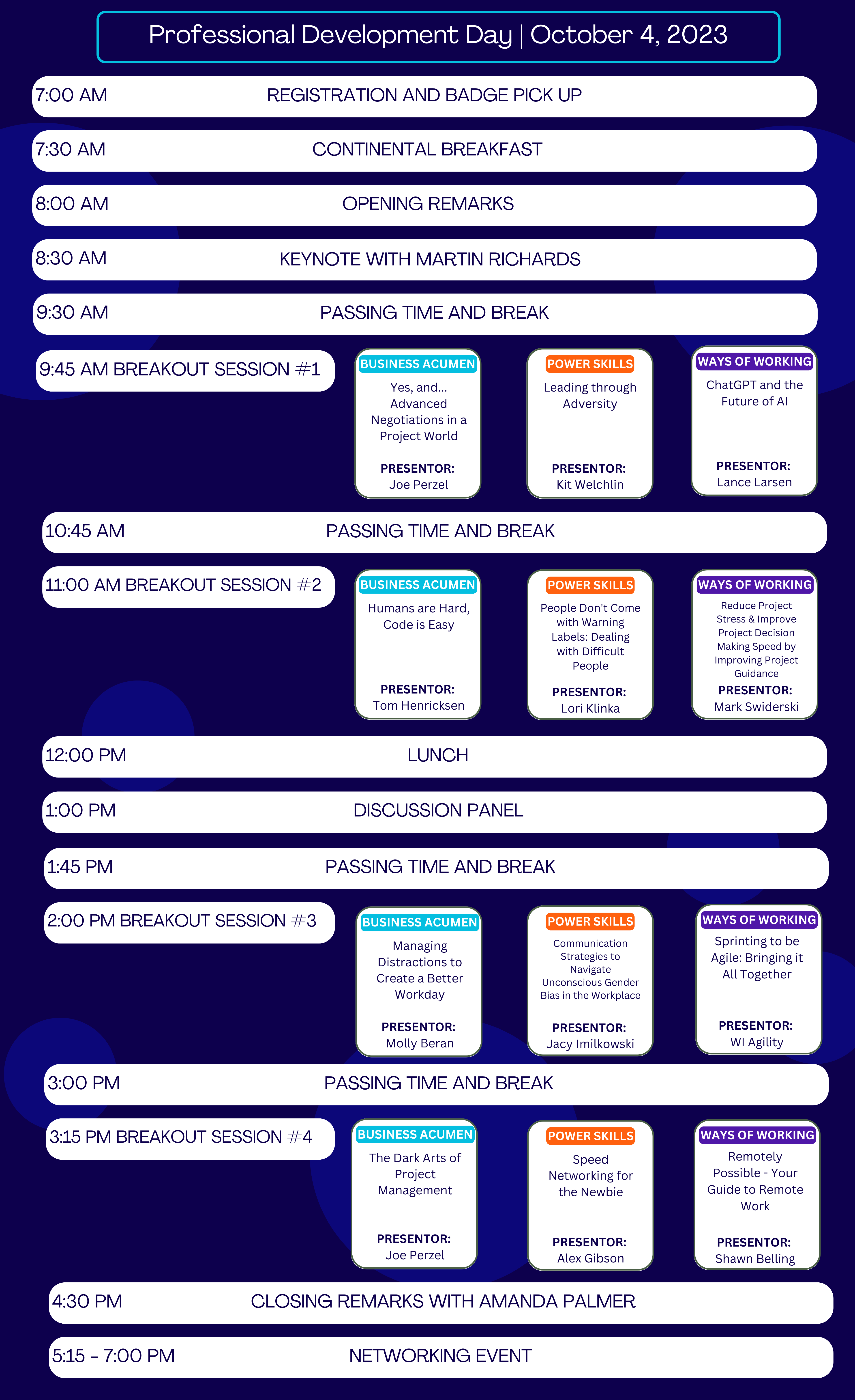 Networking and Knowledge Sharing
Beyond the sessions, PDD provides a unique opportunity to connect peer-to-peer. Engage with fellow project management professionals, share your experiences, and exchange best practices. This is your chance to expand your network and collaborate with like-minded individuals.
Pricing
Group discounts are also available, to learn more please contact vp-membership@pmi-madison.org
Regular Rates (After September 4)
Members: $330
Non-members: $385
Virtual Only PDD Members/Non-members: $250